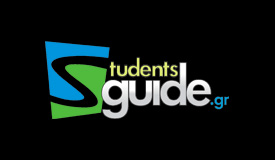 Company Type: Online Offers for Students
Country: Greece
Area: Kallithea
Project Status: Online
Students Guide
Students Guide (ak.a. SGuide) was created to provide students in Greece with access to promotional offers across a range of products. As well as offers, the site also has a range of gossip, sports, educational news and useful links that all students would find of interest.
Web Design & Development
We design and implement a unique web presence for each and every one of our clients depending on who the target audience is, which market segment they belong to, what the product is and what would be the best way to communicate it in today's online environment and all the ways it is being accessed.
Solutions
Graphics & Social Designs
We can cover all your graphic design needs. Anything from an online promotion or banner to a magazine advert or billboard. We can either go from A-Z, from idea conception to design or work with your marketing department to implement their vision.
Television & Radio Promos
Whether you need an online banner or a TV advert, we can help.
We've been creating animations and TV ads for some of the biggest names in Greece & Cyprus, including magazines, retail chains, media outlets and much more for over 10 years.